While social gatherings, recreational sports and in-person schooling are a reality again, the effects of COVID-19 still impact communities. With isolation, inactivity and poor mental health leaving a mark, it's important to support those in need.
In 2020, we began the COVID Community Roots Program. This program has followed into 2021 and 2022 and works to help rural communities in Alberta that are struggling with the challenges tied to COVID-19. With our partners at the Alberta Recreation and Park Association and Communities Choosewell adjudicating applications, we offered grants up to $3,000 to grassroots, community-led initiatives in rural and remote locations outside of Edmonton and Calgary.
This year, we received 178 applications and granted a total of $149,829 to 53 community projects in 50 Alberta communities. Each project works to support people through maintaining independence and building resiliency, helping keep communities connected, supporting organizations to deliver projects for those in need or bettering Alberta's wellbeing.
While the projects differ in tactics, they all strengthen and connect their communities despite the negative impacts of COVID-19. Some of the projects included challenges to get people moving, recreational activities for kids and creative activities to give seniors an outlet.
Learn more about our 2022 recipients on our grassroots funded projects webpage.
GO ME and Garden to Table at Longview
Longview A R C Society hosts many classes. From canning to fitness, they're focused on meeting the community's needs. They run an outreach program for seniors called GO ME, which includes tai chi, yoga and arts and crafts classes. Not only do these classes get seniors moving and learning new skills, but they also encourage interaction with people sharing tips and insights they gathered over the years.
Longview A R C Society expanded with a new initiative: Garden to Table. With 3 phases, Longview A R C Society applied for 3 separate COVID Community Roots Program grants to support their goals. The program started with the desire to get seniors gardening again. Longview has 307 residents and a high senior population. During the pandemic, many seniors were isolated and stopped doing activities they loved because of mobility issues. With funding to make waist-high raised garden beds, many seniors feel capable and proud of the work they accomplish even with their mobility issues.
Garden to Table grew to include food preservation techniques. The community's nearest grocery store is 18 kilometres away, and food prices continue to rise. Many new, young families in Longview showed an interest in learning to preserve food, so canning and dehydrating food classes became popular. With the awarded funds, Longview A R C purchased equipment needed for the classes—a stainless steel dehydrator, sealers, Mylar bags, canning jars and more.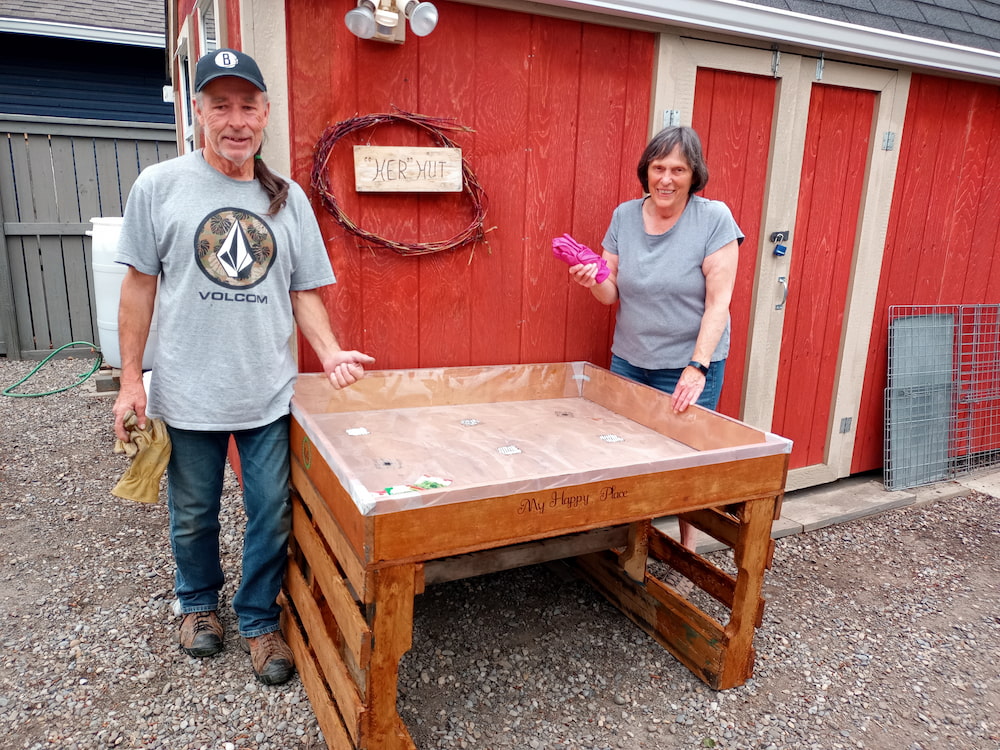 "We saw young and old [people] learning from each other and sharing experience of creating beautiful food."
— Longview A R C Society program representative
Longview A R C Society hopes this initiative trickles into other communities so knowledge can be shared. A community in High River already reached out, with 10 young mothers showing an interest in learning canning. Communities can learn to preserve food while also connecting with neighbours.
"Our Alberta Blue Cross® grants have helped attract students from Calgary, Priddis, Turner Valley, Black Diamond, the County of Foothills and High River. From single parents to single seniors, 5-month-olds and 5-year-olds to 85-year-olds, the canning seminars have brought our community together as was the norm in a bygone era."
— Longview A R C Society program representative