Mental illness is more common than you think—it affects about 9.1 million, or one in three, Canadians during their lifetime. It doesn't discriminate and can affect anyone, at any time, both directly and indirectly. Half the population will have or have had a mental illness by the age of 40 and, in any given week, 500,000 Canadians are unable to work due to mental illness. In developed countries, mental health disorders account for more premature deaths than cancer and cardiovascular disease.
These are some startling statistics, so why isn't mental illness more frequently discussed? Stigma around mental illness is the biggest barrier preventing people from seeking help, forcing many to suffer alone in silence. Other key factors in the battle against mental illness include
early recognition of symptoms,
proper diagnosis,
effective treatment and management, and
engaging in healthy coping strategies.
What is mental illness?
The first step in reducing the stigma around mental illness is learning about it. Mental illness is the reduced ability for a person to function effectively over a prolonged period due to
significant levels of distress;
changes in thinking, mood or behaviour;
feelings of isolation, loneliness and sadness; and/or
the feeling of being disconnected from people and activities.
Those suffering from mental illness feel distress on a regular basis and may not be able to cope with simple aspects of everyday life. Some may feel unable to regain control of their lives after a difficult situation, such as the death of a loved one, the loss of a job or a romantic breakup. Many find themselves in a dark place, wondering if they'll ever feel like themselves again.
Mental illness can take many forms, just as physical illnesses do. These include
mood disorders,
eating disorders,
anxiety disorders,
personality disorders, and
psychotic disorders such as schizophrenia.
While suicide itself is not considered a mental illness, it can be the result of an underlying mental illness and is a significant cause of premature death in Canada.
Risk factors for mental health
Genetics.
Environmental influences on a fetus, such as exposure to alcohol or drugs.
Early life experiences, such as abuse or trauma.
Negative life circumstances, such as poverty, or inadequate or unsafe housing.
Stressful life events, such as death of a loved one, divorce or financial problems.
Symptoms of mental illness
Significant distress.
Changes in thinking, mood and/or behaviour.
Inability to function as needed over an extended period.
Increased risk of developing physical problems, such as weight gain or loss, diabetes and heart disease.
How is mental illness treated or managed?
Due to the stigma and discrimination around mental illness, many people delay or avoid treatment. For those suffering from mental illness, it's important they know it's not their fault and that seeking help is not a sign of weakness. Getting help early on is crucial in minimizing the effects mental illness can have on one's life and reducing potential health risks.
Treatment and management will be different for each individual and it may take time to develop a plan that supports their preferences and goals. While some mental illnesses require hospitalization to stabilize patient symptoms, many can be treated or managed by health professionals and through community-based services. Treatment can include counselling, medication, support groups, coping strategies and self-care.
Mental illness is not something an individual has to bare on their own. Many say they felt a sense of relief in receiving a diagnosis and have been happier and mentally healthier since seeking help.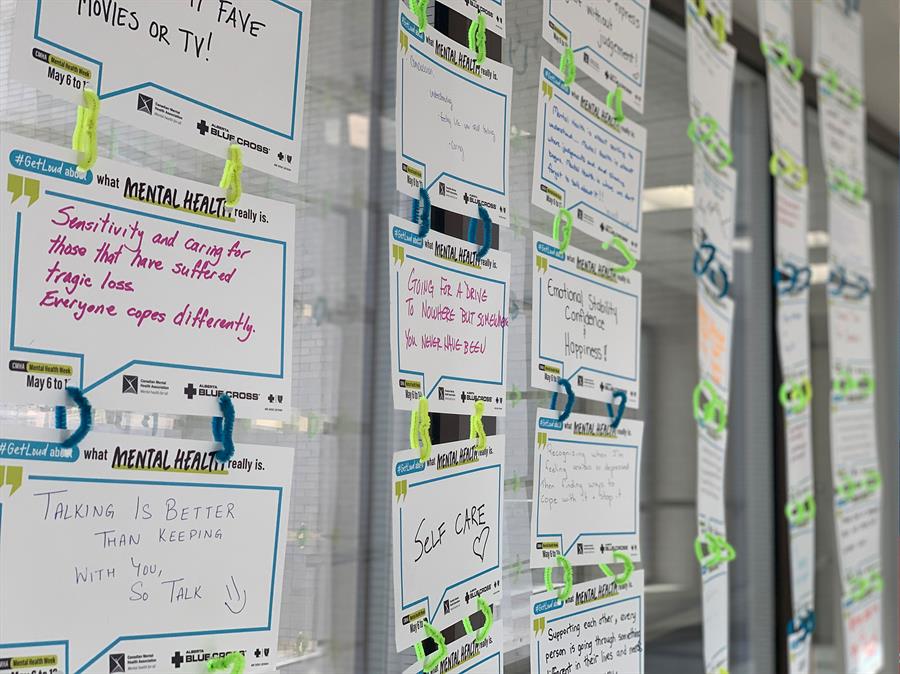 How can you help?
If someone close to you shows signs of mental distress, it's important they seek help as soon as possible. Encourage them to speak with a health professional, but also ask them what you can do to help. You might be able to provide emotional support or help with daily tasks, should they need it. A family member, friend or colleague's mental illness may indirectly impact your own life, so remember to also protect your mental health and seek support for yourself if needed.
It's a long road to end the stigma around mental illness, but there are ways you can make a difference.
Avoid judging or assuming things about someone as you don't know what they might be going through.
Learn more and become an advocate for those suffering from mental illness. If you have or have experienced mental illness, consider sharing your story with your networks—your courage could help someone who is struggling. At Alberta Blue Cross®, for example, we recently ran an internal campaign in which a few of our employees shared their personal stories of mental illness with our employee base to put a face on mental illness and help end the stigma in our workplace.
Support, or get involved with, organizations that focus on mental health and illness, such as the Canadian Mental Health Association, the Canadian Alliance on Mental Illness and Mental Health and the Mood Disorders Society of Canada.
If they don't already do so, encourage your employer to promote mental health in the workplace. At Alberta Blue Cross®, we offer various forms of mental health support and resources to our employees including mental health training, an Employee Family Assistance Program and benefit plan options that include psychology services or treatment. Our Balance® online wellness program also includes great articles and tools to help our plan members improve their mental health. Check out the workplace wellness resources from Canada's Healthy Workplace Month and the Workforce Mental Health Collaborative.
Write to your local leaders and policymakers with any concerns regarding mental health and illness in your community.
Please check out the infographic below. You can also download it here to share it with your networks.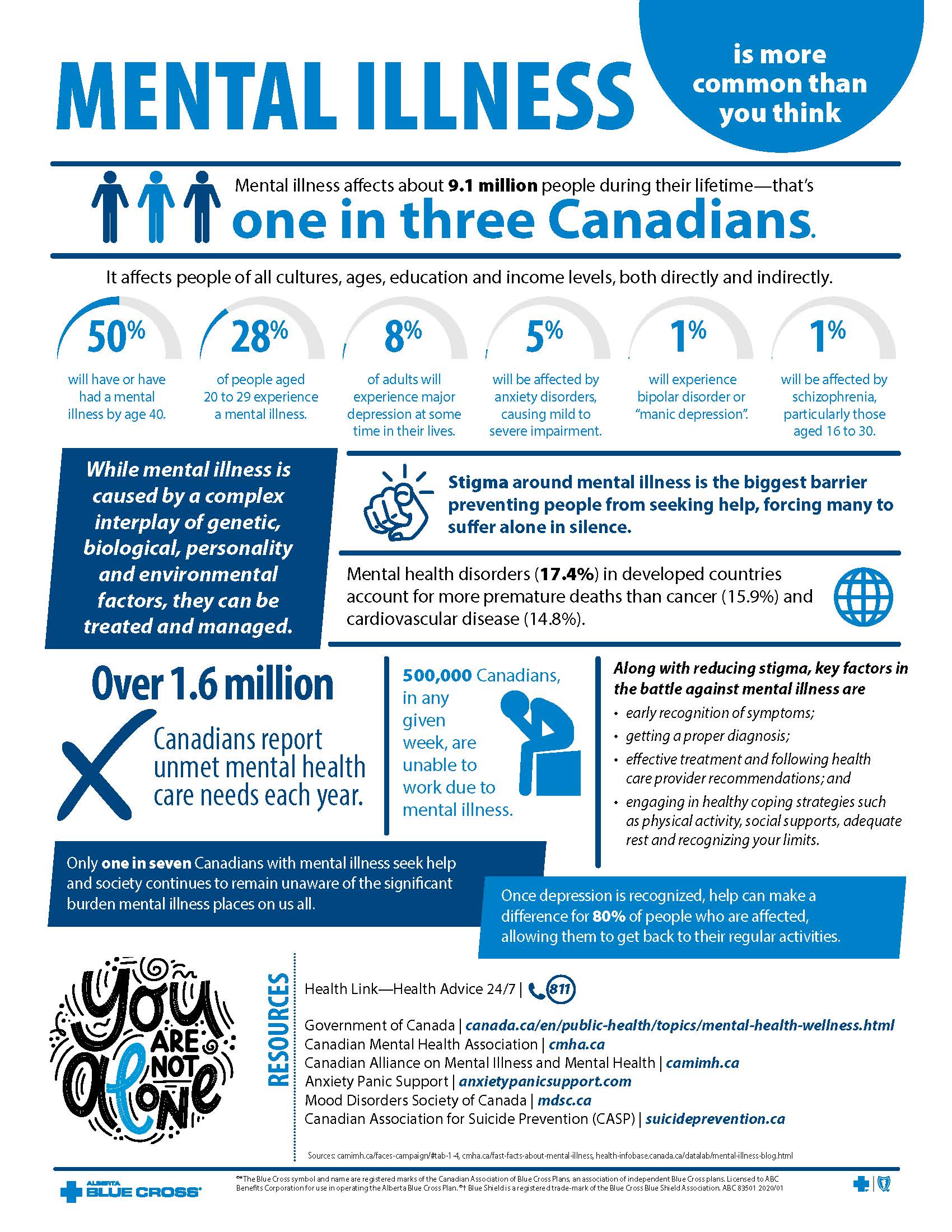 Sources: canada.ca/en/public-health/services/about-mental-illness.html; camimh.ca; cmha.ca