Written in partnership with, Cheryl Krueger, Spiritual Health Practitioner, who is a member of the Lois Hole Hospital lady talks community.
Confinement exists. I'm not talking about COVID-19. It's confinement of another kind.
At the Lois Hole Hospital for Women, I provide support for patients whose pregnancies are at risk.
These mothers are confined to the hospital ward, usually without advance preparation, spending most of their time on a bed for the sake of their baby.
Try to imagine being in their shoes, or rather, their slippers. Some have children at home cared for by grandma; some are far away from family; some are anxious about the little bambino growing inside. The longest stay I witnessed lasted 125 days. These moms will do anything for their babies, but that doesn't mean they are ready for this experience or expect their pregnancy to be this way.
Now add COVID-19 to the confinement: no visitors, no family, no flowers and no SkipTheDishes.
As a spiritual health provider, my role includes supporting these confined, grumpy, angry, bored, scared, frustrated and sometimes happy mothers.
I ensure these mothers know that all their emotions, stirred together with salty tears, are valid. They need resources to encourage them to connect with their spirituality and inner strength to get through another hour, not with resentment, but with peace. Being healthy on the inside for the mom contributes to positive emotional development for the baby as well.
To promote positivity, I provide tea parties and craft days, but mostly, I provide lots of listening care helping these mothers cope, while struggling with their ambling thoughts and hormonal emotions.
I encouraged them to journal. But lately writing on a blank piece of paper seems just as blank and boring as the day they just had. So, I had the idea to create a guided journal titled, "Baby 'n Me."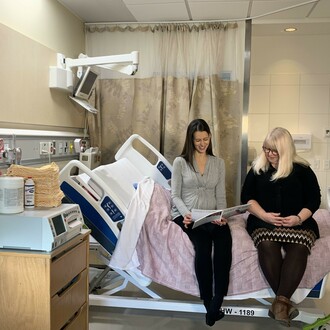 The journal I envisioned had guided questions and prompts of what to write, with mood graphs, love notes to the baby, pregnancy quotes and options for doodling and pictures to colour.
But the journal was still just a dream on paper until I presented the idea to the Royal Alexandra Hospital Foundation, which then shared it with the Lois Hole Women's Society. They grabbed hold of the idea, raised the funds and the journal became a real thing in the hands of these pregnant women.
Here's what they've shared about their experience with it:
"The journal made me think about things I would not normally have thought about."
"The colouring helps me slow my mind down so I could process my emotions … I'm not one to put my feelings out there but the journal is a great help."
"I love the prompts."
"The journal is helping me release grief from my previous miscarriage and fears of the possibility of losing this baby."
This dream became a reality with the help of the Lois Hole Women's Society and it will be used for a long time to come.
We can all relate to restrictive isolation at this time. Picking up a journal just might be a helpful tool for all of us, pregnant or not.
Hint: you can start, by using the below questions as prompts:
1) What's happening?
2) What does it mean?
3) How do I feel?
4) How will I grow through this?
We are committed to supporting the health of Albertan's through all ages and stages of life, as such we are proud partners of Lady Talks—a series brought to you by the Lois Hold Hospital Women's Society dedicated to teaching people about women's health.
We'd love to hear how journaling is getting you through this unprecedented time. Comment below and share your story.