Supporting the health and wellness of Albertans is something we work tirelessly at, but we recognize that we're not alone. There's strength in numbers—and that's why we passionately support great non-profit organizations who advocate for the health of Albertans in their own unique ways to make meaningful contributions in their communities. We're proud to partner with these organizations who are on the front line making a difference—including the Shepherd's Care Foundation, which provides age-in-place solutions for Edmonton's senior citizens.
This past Friday, we decided to show up a little differently for them—with cake. Luckily, so did most of the other attendees of the Shepherd's Care Foundation Cake Auction. As a sponsor, we can only rave about the generosity in the room. Our cake, crafted by local boutique bakery Crave Cupcakes, was auctioned off for $800.
And that wasn't even the best part. You see, sponsorships tend to look the same—a logo on a wall, a mention on a stage. But what about their impact? In this case, what about the seniors? Our staff wanted to meet them, share some cake with them and enjoy the event together. Margaret and Robert, residents at Shepherd's Care, kindly obliged. After all, good cake deserves good company. And what did we end up with after an evening of good conversation and learning about the importance of person-centred care? A host of new friends—not to mention $140,000 raised in support of compassionate care for seniors. That's what we consider a successful event.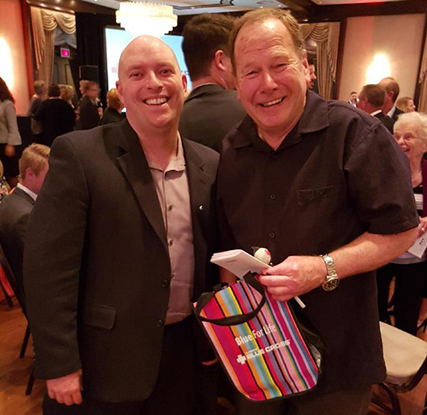 Alberta Blue Cross® staff member Nolan (left) and Shepherd's Care Resident Robert (right) at the Cake Auction