This past summer, we announced the exciting partnership between YW Calgary's Transitional Housing program and the Inglewood Community Garden initiative. This initiative helps women in crisis or transition improve their emotional health and build skills for personal interest, healthy eating and potential future employment.
Equipped with supplies and an extensive workbook on planting and garden maintenance, program participants spent the summer planting vegetables and flowers, transplanting seedlings, weeding and watering. They learned about gardening, the importance of bees and how to keep soil healthy.
During the last week of the program, they welcomed two new faces and were in full harvest mode. Volunteer gardening expert, Diana, taught participants how to dig for gold—in other words, how to harvest potatoes. The ladies had fun springing up potatoes with each spike.
"This really helped my anxiety. Also, I haven't exercised like this in a while!" – program participant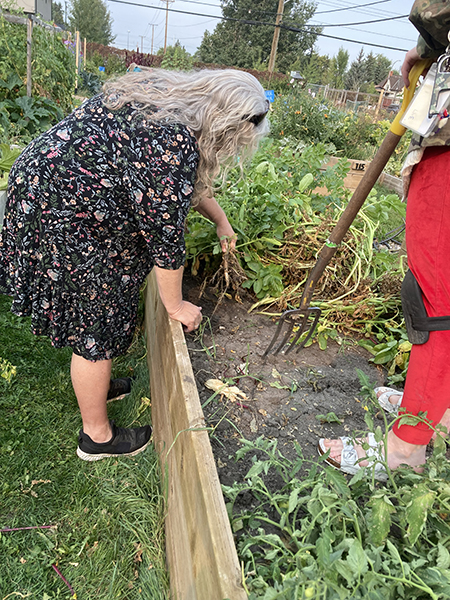 They collected a bucket of potatoes and another of cucumbers. Their tomatoes are growing well and should be ready to harvest soon.
"I'm personally excited to see all the potato salad and fried green tomatoes our clients will make," – program participant
YW Calgary hopes to hold a small harvest potluck for their garden program participants if it is safe to do so.
While many benefits have come from this initiative, the resulting sense of community and accomplishment for all those involved has been the biggest—as well as the benefit of fresh, healthy produce.
YW Calgary plans to continue the program next year with the Inglewood Community Garden. Program participants found that teamwork makes dream work—and so does a little coffee and doughnuts.
"I think we've all learned how supportive our community is and how providing interesting community engagement opportunities to our residents can really uplift them, especially during these difficult times." – Salwa, Transitional Housing supervisor, YW Calgary